Les mille merveilles de l'univers (1997) – 87'
THE THOUSAND WONDERS OF THE UNIVERSE
Science fiction
Coproduction: Studio Canal - Duboi - France 3 Cinéma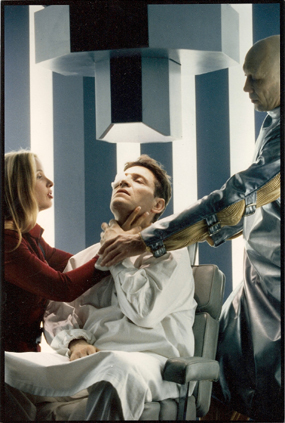 SYNOPSIS
Humanity lives in fear of an alien invasion: for the first time in history, a coded message from outer space has reached planet Earth.

A few months later, the 12,000 residents of Sepulveda vanish. Authorities immediately quarantine the area, a free zone where drug trafficking and illicit sex were the most common businesses.

When strange magnetic phenomena are observed, military authorities grudgingly concede the possibility of an alien offensive, and send professor Larsen -a renowned astrophysicist specialized in UFOs- to lead a quick investigation in the ghost town.




STARRING
Tcheky Karyo, Julie Delpy, Maria de Medeiros,
Feodor Atkine, Chick Ortéga, Pascale Bussières,...

SCRIPT AND DIALOGUES
Régine Abadia, Alexis Galmot and Jean Michel Roux

PHOTOGRAPHY
Michel Amathieu

EDITING
Jean Beaudoin

PRODUCTION DESIGNER
André Chamberland

MUSIC
Mick Harris, Scorn, Shostakovich, Treponem Pal
The Young Gods, Kni Crik, Godflesh, Steve Roach,
Vaughan Williams, jean Donati

SOUND
Bruno Tarriere et Pierre Choukroun

PRODUCTION
François Fries

COPRODUCERS
Eric Altmayer and Jean-Martial Lefranc