La voix du désert (1987) – 12'
THE VOICE OF THE DESERT
Fantasy fiction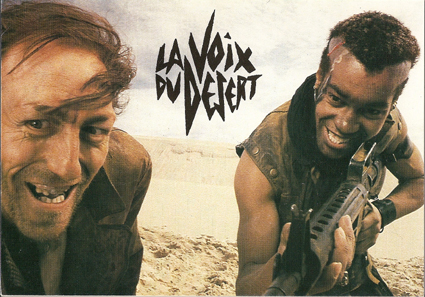 Synopsis
In the middle of the desert, a message of God, recorded on a magnetic tape, is hidden in the grave of a murdered missionary.

The secret powers that dominate the planet send spies to the field to retrieve this document of an inestimable political and financial value.

Between three missionaries of the Vatican, two French detectives, a female spy from Pekin Central Office and three agents of the San Francisco Mafia, all tactics are allowed.


SCRIPT AND DIALOGUES
Pierre Bitoun, Michel Didym et Jean Michel Roux

STARRING
Howard Vernon
Dominique Pinon
Catherine Frot
Muni
Yann Collette
Philippe Bruneau
Nanou Garcia
Michel Didym
Muriel Mayette

PRODUCER
Philippe Alexandre

PHOTOGRAPHY
Michel Amathieu

MUSIC
Le Baron

PRODUCTION DESIGNER
Alain Juteau

MIXING
Bruno Tarrière

EDITING
Joseph Licidé

COSTUME
Cidalia Da Costa

ORIGINAL PRODUCER
Sinbad Productions

CURENT PRODUCER
Jean Michel Roux